List of 10 luxury Machiyas
Vacation Rental / Ryokan
Nakagyo-ku, Kyoto
A 110-year-old traditional wooden house in Kyoto has been transformed into a luxury ryokan.The wooden beams and fittings from the old house were reused upon renovation to maintain the historical feel of the house. 
Map-6
Kamigyo-ku, Kyoto
A facility with a bold design that expresses a house style that mixes tradition and modernity.Located only 200 meters north of the World Heritage Site "Nijo-jo Castle".
Map-5
Shimogyo-ku, Kyoto
Built around 1907, it has been transformed into a modern and comfortable ryokan while retaining its original appearance.
Map-2
Shimogyo-ku, Kyoto
The property was built in the early Showa period (around the early 1900s).The main materials such as straw, plaster, and soil have been preserved, and the building has been tastefully renovated to retain its original appearance.
Map-3
Shimogyo-ku, Kyoto
Easy access, only an 8-minute walk from Kyoto Station and each building can accommodate up to 9 guests.Bathroom and living room with a view of the Japanese garden.
Map-4
Shimogyo-ku, Kyoto
The facility features traditional Japanese-style houses.Located near Nishi Hongwanji Temple, one of the famous tourist attractions.
Map-1
How to make a reservation
Please use the reservation form below to make a reservation. We will check the availability and suggest a facility for you. All of our machiya houses are high-grade machiya houses. If you are traveling together with two or three groups, please write in the remarks column. We will find you a facility with a row of houses.
*Reservations must be made at least 3 days prior to the scheduled stay.
How to check-in
Rinn Premium is a private ryokan with no staff on the premises. Therefore, the check-in procedure location is different from that of the accommodation. Free shuttle service is available from the check-in location to your accommodation (*There is a charge if only luggage is delivered to the facility). Please click here for check-in location.
Due to the ordinance of Kyoto City, face to face check-in is mandated. As our hotels are vacation rentals without check-in counters, we have to ask our guests to check in at the below check-in counter which locates different place from your accommodation.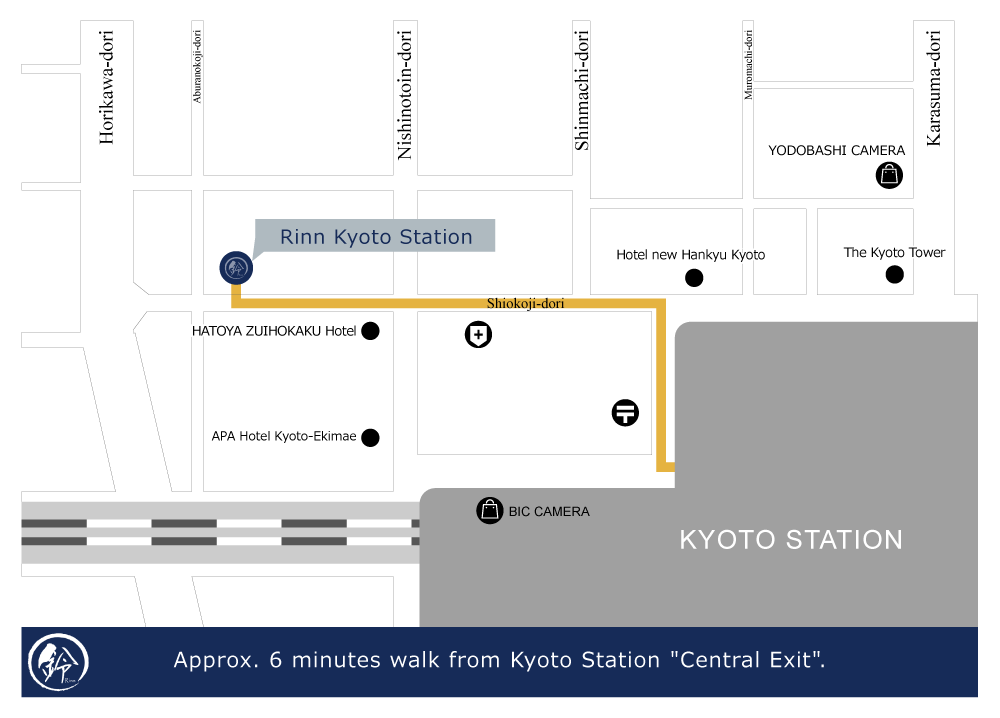 Reception Facility Name
Rinn Kyoto Station(In front of Kyoto Station)
Address
522 Kitafudodo-cho, Kizuya-bashi-mori, Aburaokoji-dori, Shimogyo-ku, Kyoto, Japan
Access
Approximately 6 minutes walk from Kyoto Station "Central Exit".
Cancellation Policy
As we offer a special rate plan, cancellation fee is free if you notify us 8 days prior to your stay; 100% of the room charge will be charged from 7 days prior, and 100% of the room charge if you cancel on the day of your stay or do not stay overnight.